Comprehensive Care as Your Child Grows
While our team is friendly, we understand that the eye doctor can be intimidating for children. We do our best to make our eye exams as comforting and relaxing as possible. Your child's vision is important, and we're here to provide quality, comprehensive eye care.
Visit Mt. Tam Optometric Center, and we can care for your child's vision.
Request an Appointment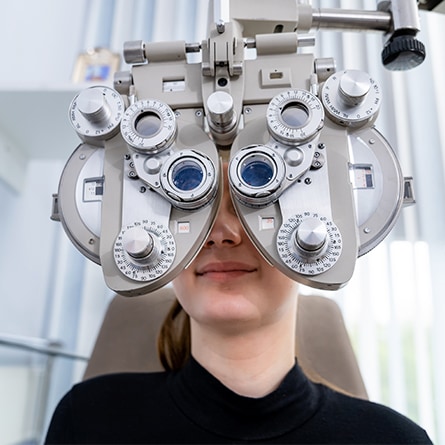 The Importance of Children's Eye Exams
Your child's vision develops as they grow, helping them learn, play, and interact with others. However, many eye problems can develop in childhood, affecting their vision. An undiagnosed eye problem can affect your child's school and extracurricular performance.
During your child's eye exam, we can identify eye conditions as early as possible. We can help protect their vision with our diagnostic technology and detailed examinations.
Some common eye conditions for children include:
How Often Should Your Child Have an Eye Exam?
Your child's vision is constantly developing—they experience many changes, even in the first year of life. As your child grows, their eye exams become more comprehensive as their eyes further develop.
According to the American Optometric Association, your child should have eye exams following this schedule:
Once between 6–12 months old
Once between 3–5 years old
Annually from ages 6–18
What You Should Expect During Your Child's Exam
As can be imagined, a child's eye exam differs from an adult's. They are quick and can be done from the lap of the parent if the child is more comfortable that way. The traditional question of "which is better, 1 or 2?" is replaced by testing that doesn't require feedback from your child to be successful.
The goal is to have fun and a good experience while still getting the required information to inform the parents of any vision or health concerns now or in the future. These exams typically last around 15 minutes for children up to about 6 years of age.
We also strongly encourage you to take advantage of our free baby check for all children between the age of 6 to 12 months. Not only can we help protect their vision with our diagnostic technology and detailed exams, but we can often predict potential problems in their development and how to avoid them.
Book Your Child's Next Exam
Your child's vision is important as they grow, learn, and play. Contact us when it's time for your child's next exam, and we'll provide them with quality care.
Request an Appointment
Our Location
Mt. Tam Optometric Center is located in San Anselmo, on the corner of Suffield Ave. and Sir Frances Drake Blvd. If you are having trouble finding us, please give us a call!
Our Address
1604 Sir Francis Drake Blvd.

San Anselmo

,

CA

94960
Our Hours
Monday

:

By Appointment Only

Tuesday

:

By Appointment Only

Wednesday

:

By Appointment Only

Thursday

:

By Appointment Only

Friday

:

By Appointment Only

Saturday

:

By Appointment Only*

Sunday

:

By Appointment Only


*Includes the first and third Saturday of the month
Request an Appointment