Thorough Eye Exams to Protect Your Vision
Diabetes can significantly impact your health, damaging the eyes and increasing your risk of vision loss. While diabetes is a risk for your eye health and vision, we have the technology to help protect your sight.
Visit Mt. Tam Optometric Center for comprehensive diabetic eye exams. We thoroughly evaluate your eye health to help protect your vision from eye disease.
Request an Appointment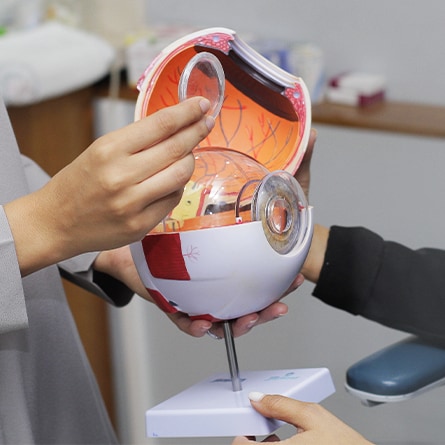 How Often Do You Need an Eye Exam?
Ideally, you should have an eye exam every year to check for changes in your vision and early signs of eye disease. These yearly exams can help us identify and treat problems to prevent further damage.
Our innovative technology allows us to get high-definition imagery of your eye's internal structures. The sooner we identify a problem, the faster we can provide treatment.
Diabetic Eye Disease
Diabetic eye disease is a risk for any patient with diabetes. This disease is an umbrella term for any conditions that occur because of diabetes, like diabetic retinopathy or diabetic macular edema.
Diabetic Retinopathy
Diabetic retinopathy is a disease occurring when the blood vessels in the retina become damaged. High blood sugar for long periods can damage the blood vessels, causing them to leak fluid and blood. Later stages of this disease can lead to increased bleeding, scarring, or other complications.
Diabetic Macular Edema
Diabetic macular edema is a possible complication of diabetic retinopathy where the macula swells due to leaking fluid. This condition can lead to permanent vision loss if left unaddressed.
Our Technology
We use innovative technology to evaluate your eye health. Diabetes increases your risk of eye disease, and our technology helps us identify changes in your eye health, often before you see changes in your vision.
We can diagnose problems or help track treatment progress using this technology.
Make Eye Exams an Annual Affair
Your vision is precious, and diabetes can place it at risk. The best thing you can do to protect your eye health and vision is to book annual eye exams and care for your condition. Remember to book your yearly eye exam—we can take care of the rest.
Request an Appointment
Our Location
Mt. Tam Optometric Center is located in San Anselmo, on the corner of Suffield Ave. and Sir Frances Drake Blvd. If you are having trouble finding us, please give us a call!
Our Address
1604 Sir Francis Drake Blvd.

San Anselmo

,

CA

94960
Our Hours
Monday

:

By Appointment Only

Tuesday

:

By Appointment Only

Wednesday

:

By Appointment Only

Thursday

:

By Appointment Only

Friday

:

By Appointment Only

Saturday

:

By Appointment Only*

Sunday

:

By Appointment Only


*Includes the first and third Saturday of the month
Request an Appointment