Caring for Your Ocular Needs
Your eyes deserve proper care when they need it, whether it's help managing eye disease or support before and after ocular surgery. Our team has experience diagnosing and treating eye disease at all stages, protecting your eye health and vision.
Visit Mt. Tam Optometric Center for eye disease diagnosis, management, and other medical services. We're here to preserve your vision and help it function at its best.
Request an Appointment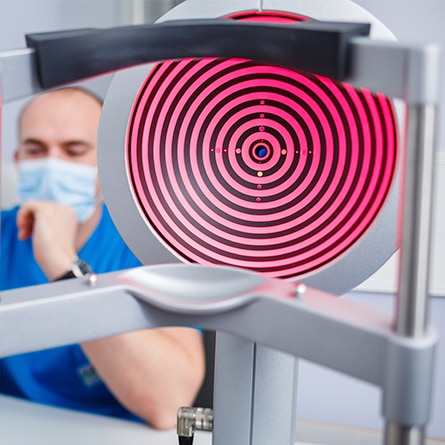 We Provide Effective Eye Disease Management
Eye disease is always a risk for your vision and eye health, with some diseases leading to severe vision loss. Many diseases, like glaucoma, can develop with little to no symptoms, making it difficult to notice changes in your sight. However, we have the technology to identify these diseases before they further damage your eye health.
You can protect your vision by scheduling regular eye exams. The tests we complete during these exams can help identify problems as early as possible. Detecting eye disease early in its development can lower your risk of vision loss.
Pre- & Post-Operative Care
We're proud to offer evaluations and support for several eye and facial procedures like LASIK, SMILE, phakic intraocular lenses, cataract surgery, and different plastic surgeries.
Our team offers free evaluations to determine your eligibility for surgery, discuss the benefits and risks, and examine your eyes before referring you to a trusted surgeon. Before your surgery, we'll complete a pre-operative exam to ensure you're fit for surgery.
Your support doesn't end after your surgery is complete—our team will set up several follow-up appointments to help ensure you're recovering well. These follow-up appointments typically occur after one week, one month, 3 months, and 6 months following your operation.
Common Eye Diseases
Anyone can develop an eye disease at any age, but your risk increases with time. With the risk age plays in eye conditions, regular eye exams are crucial as you get older. We can help identify subtle changes in your vision, diagnosing problems as early as possible.
Some common eye diseases include age-related macular degeneration, cataracts, diabetic retinopathy, and glaucoma.
Here for Your Eye Health & Vision
Our team is here for your ocular health and vision, no matter your needs. We can diagnose and manage eye disease, provide support after ocular or plastic surgery, or recommend ways to support your eye health. You can count on us when it comes to your sight.
Request an Appointment
Our Location
Mt. Tam Optometric Center is located in San Anselmo, on the corner of Suffield Ave. and Sir Frances Drake Blvd. If you are having trouble finding us, please give us a call!
Our Address
1604 Sir Francis Drake Blvd.

San Anselmo

,

CA

94960
Our Hours
Monday

:

By Appointment Only

Tuesday

:

By Appointment Only

Wednesday

:

By Appointment Only

Thursday

:

By Appointment Only

Friday

:

By Appointment Only

Saturday

:

By Appointment Only*

Sunday

:

By Appointment Only


*Includes the first and third Saturday of the month
Request an Appointment