Boost Speed & Comprehension, Reduce Color Blindness & Dyslexia
Many patients live with vision problems that affect their ability to see color, or read and comprehend efficiently. These issues, known as color blindness and dyslexia, can make everyday sight a little more difficult or even make it harder to find your dream job.
If you struggle with these problems, we're ready to help.
We are proud to offer ChromaGen lenses to help our patients to achieve their vision goals.
Visit us today to see how these lenses can help support your vision.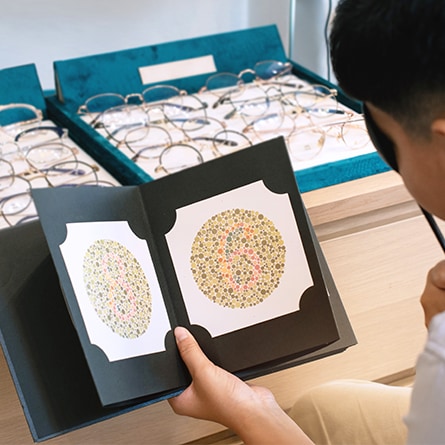 What Is Color Blindness?
Color blindness, also known as color vision deficiency (CVD), is a condition that affects how people perceive colors and shades.
Aside from complete color blindness, which affects the ability to see any color, there are 2 main types of CVD: red-green and blue-yellow color blindness, which affects the ability to differentiate the 2 colors, respectively.
Dyslexia: Is It a Vision Problem?
We often hear from adults or parents that their children struggle with dyslexia, even though their sight is technically 20/20. But how does this happen?
20/20 sight is indicative of how clear your child's vision is, but it does not quantify the ability to understand and use the information they see for any purposeful reason. In short, it's possible to have naturally clear vision yet still struggle with vision concerns like dyslexia.
How ChromaGen Lenses Work & How to Get Them
ChromaGen lenses work by changing light wavelengths as they enter your eyes and changing how information is passed from your eyes to your brain.
These lenses can rebalance the eyes and the information they receive, helping to address common symptoms related to dyslexia and color deficiency. However, before we can determine if ChromaGen lenses are right for you, we'll need to walk you through our ChromaGen process:
An eye exam gives us a baseline on your vision.
We determine which combination of ChromaGen lenses suit your needs.
We retest your eyes with the lenses to see how they support your sight.
Choose from ChromaGen lenses like contacts, clip-ons, or eyeglasses.
Who Is ChromaGen For?
Many people don't know they struggle with CVD or dyslexia until they're diagnosed with it. Until that point, it's possible to confuse instructions or objects without even realizing it.
ChromaGen lenses can help you or your child rely on your sight more, and can be a great tool for helping people achieve careers that require a certain quality of sight, such as:
Firefighters
Police officers
Military personnel
Commercial pilots
Graphic artists
Electricians
If you or your child struggles with vision problems, please get in touch with us to learn more about how ChromaGen lenses can help.
Take Action to Support Your Vision Today
ChromaGen lenses can help improve your vision and quality of life. We can help assess your vision and determine whether these lenses can benefit your sight. Visit us in San Anselmo to learn about your eligibility for ChromaGen lenses.
Request an Appointment
Our Location
Mt. Tam Optometric Center is located in San Anselmo, on the corner of Suffield Ave. and Sir Frances Drake Blvd. If you are having trouble finding us, please give us a call!
Our Address
1604 Sir Francis Drake Blvd.

San Anselmo

,

CA

94960
Our Hours
Monday

:

By Appointment Only

Tuesday

:

By Appointment Only

Wednesday

:

By Appointment Only

Thursday

:

By Appointment Only

Friday

:

By Appointment Only

Saturday

:

By Appointment Only*

Sunday

:

By Appointment Only


*Includes the first and third Saturday of the month
Request an Appointment